TOP TAPER W/ FLAP CLOSER AND SIDE BELT DRIVE. USES PRESSURE SENSITIVE TAPE. IS FULLY ENCLOSED WITH LEXAN GUARDING. EXCELLENT CONDITION.
CASE SIZE: min. 6"L x 4.5"W x 4.5"H
max. 24"L x 20"W x 20"H
SEALING RATE: UP TO 28 (12" long ) CASES/ MIN.
POWER: 115V, 1 PH., 9.6 AMPS
AIR REQUIRED: 60 P.S.I.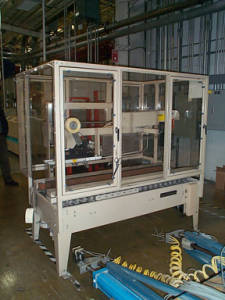 Bemis-1022