MANUAL LOAD, WITH NORDSON HOT MELT GLUE SYSTEM (2 HOSES, GUNS, AND FIBER OPTIC CARTON SENSORS TO GLUE TOP AND BOTTOM OF CARTON), ON 6.75" CENTERS WITH ADJUSTABLE BUCKETS (APPROX. 1.25" —- 5.25"). HAS 5 FT. POWERED CARTON FEEDER W/ DUAL VACUUM ARMS TO FEED CARTON.
VARIABLE SPEED ELECTRONIC DRIVE AND MACHINE MOUNTED VACUUM PUMP. LAST RUNNIG A 4" x 1" x 3.5" D SEALED END CARTON.
ELECTRIC: 440V; 3 PH INPUT W/ 220V STEP DOWN TRANSFORMER MOUNTED ON THE MACHINE.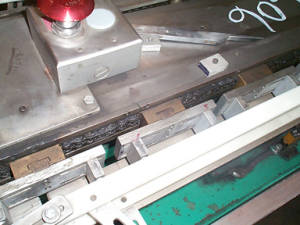 CLYBOURN BAHL-2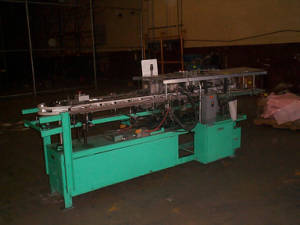 CLYBOURN BAHL-1